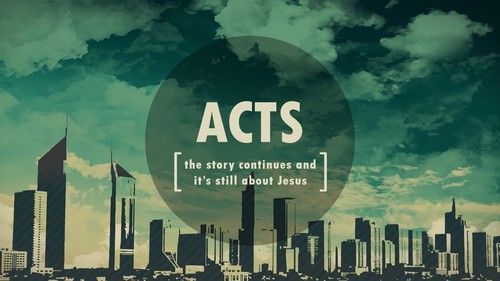 The story continues … and it's still about Jesus.

The book of Acts records the birth of the Church and the thirty-year period following the resurrection of Jesus. The book includes incredible stories of faith. So who were these people? What inspired them? And what sparked a movement? The resurrection of Jesus Christ! They heard His teaching, they witnessed His miracles, and they were there when He was horribly crucified. And amazingly, they saw Him alive again, proving He was the Son of God and proving that everything He said was true. They were convinced. And they were compelled to proclaim it. At great risk, they courageously talked about Jesus everywhere they went, and many of them died for doing so.

They were convinced, they were compelled, and they were courageous. And these first Christians are our mentors. We need their 1st century passion for our 21st century world. May their faith revive our faith. May their joy revive our joy. May their passion revive our passion. May their courage revive our courage.

The book of Acts continues to be written; every generation adds their chapter to the book. We are living and writing our chapter. The story continues … and it's still about Jesus.

August 19 The Mission...Witnesses of Jesus
READ
WATCH
August 26 The Spirit...Empowered for the Mission
READ
WATCH
September 2 The Message...It's ALL About Jesus
READ
WATCH
September 9 The Church...The Beauty of the Bride
READ
WATCH
September 16 The Name...The Power of His Name
READ
WATCH
September 23 The Prayer...Praying as They Prayed
READ
WATCH
September 30 The Unstoppable Gospel
WATCH
October 7 Stephen, The First Martyr
READ
WATCH
October 14 Philip, The Evangelist
READ
WATCH
October 21 Saul/Paul, The Conversion
READ
WATCH
October 28 The Gospel, For All Nations
READ
WATCH
November 4 The Hand of the Lord Was With Them
READ
WATCH
November 11 Great Lengths to Save
WATCH
November 18 What's Next
WATCH